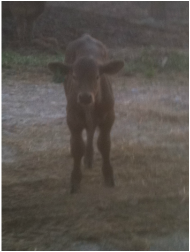 Walking in from the barn tonight after the rains from this
morning I heard the tell tale sign of spring coming from the creek
bottoms. The spring peepers or
frogs were just singing along minding their own business.
This got me to thinking of all the other signs of spring that are subtle but
are still jumping out everywhere you look. Spring calves are just the beginning of
the really long list; it makes you grin when you see little babies racing around
the field or curled up in a ball soaking up the sunshine.
The difference that you can see in the pastures that have been grazed
over winter are the first ones to green up telling you that spring is coming and
your hay fields aren't far behind.
The wheat that we seeded into the pasture fields is marching along in straight little rows giving sign that better and sweeter grazing is coming soon and another year of hay production isn't far
away. Dog and cat hair sticking to my jeans leg let me know that Sadie's spring shave is fast approaching as I brush off hair every night. What are your favorite signs of spring?