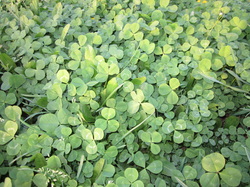 Things have been a little busy around the barnyard the last couple of days. We have new babies hitting the ground every day and are working hard to get fences fixed and cattle moved out to spring grazing. Grazing spring re-growth can be gratifying and very dangerous all at the same time. Generally farmers do not have problems when turning cattle out to pasture in the spring. We just open the gate and watch cows and calves buck, kick and jump before settling in and getting down to business of harvesting the grass. Spring 2012 is proving to be a different kind of year where all farmers are very careful about when cattle are turned out on pasture.
The mild winter has led to an explosion of white clover which is covering the pastures with lush rapid growth. While this is good for nutritional value this can also be very deadly for all age groups and types of cattle across the board. Generally the white clover is slower coming on due to soil temperatures allowing the other cool season forage to get ahead and balance out the pasture as a whole. Right now in several fields the white clover has overshadowed and taken over for the time being; this is making it the only forage that the cattle are consuming in large quantities. White clover is known to cause what is called Frothy Bloat. To make a long story short it creates suds in the rumen, largest part of the stomach. This does not allow the gas (methane) to be released. This builds up, putting pressure on the lungs and essentially suffocating the animals. This type of bloat is really quick and has been known to kill animals within an hour of being turned out on predominately clover pastures.
Farmers can take several different measures to keeping this problem from occurring in their herds. Methods from using bloat blocks, keeping cattle on dry lots, or ,clipping pastures can be applied. If the right management tools are in place, farmers can reap the benefits of the clover and still have a complete herd at the end of the day. We use a combination of dry lots and timed grazing to feed our cattle when it comes to lush green white clover.

This year only two of our fields have been overrun with white clover, so I went out the other day and established a fence across 1/3 of the field. I called our fall heifers and calves from their field where they had been camped out around the hay feeder all day. I waited till the late afternoon when I had gotten home from the mill so I would be there when they were grazing and also so all the dew/ moisture had lifted from the clover. Wet clover causes bloat much easier than clover that has had the dew dry off for the day. Having the heifers around the hay ring all day assured me that they were pretty much full of ha,y which helps keep the chances of bloat at a minimum. We always try to keep hay in front of cattle in the spring to help with digestion. I let the heifers have the field for an hour before I pulled them off and gave them their nightly grain. This type of management assures that our cows stay healthy and happ