Quarles Daylilies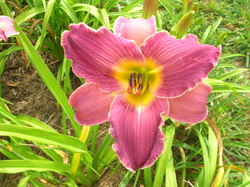 We grow all types of daylilies, spiders, full forms, unusual forms,
doubles, eyes and edges. You'll find newer introductions from many major
hybridizers as well as older award winning favorites on our sales lists. We
offer many fine Munson cultivars for those intrigued with the Munson legacy. We
currently carry over 1600 cultivars and make new additions yearly. Our plants are field grown in the farm's old tobacco patch. This soil is unamended and the plants are grown with little or no mulch. This helps us easily determine which plant a doer and which is a wimp. We don't have the time or interest in babying a plant. If they don't bloom well and increase at a reasonable rate for us then we don't want them. We want you to be happy with the way our plants grow in your garden.
This past year we again had a wonderful time during open gardens visiting with customers and friends that stopped by to see our field. We truly appreciate and thank our repeat customers and those that tried us for the first time. We have made some very dear friends through our daylilies and our markets. We hope our
service and quality of plants met your expectations. As always, your satisfaction with our plants is of first importance with us.

We have a gallery of several hundred pictures of our plants for you to
inspect. These are not professional pictures. Some of them were taken by our
18-year-old daughter. These are pictures of the plants directly as they grow in
the field with no bells or whistles added. What you see in these pictures
should be what you should expect to see when those plants bloom for
you.


---