Quarles Beef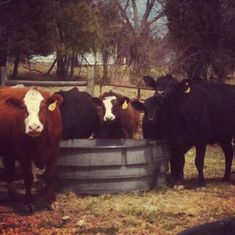 Water Tank Talk
Quarles Beef guarantees that our cattle are treated with the upmost respect and care. It is often a joke at home that our cattle live better than we do. Cattle are always fed, watered and cared for before we see to our own needs. While this often means not eating till 9:30 or 10 at night, we believe that great care is directly related to a great product. Our cattle are out on grass pastures, and fed a grain supplement along with hay and other forage materials. All of our cattle are trained to come to a bucket so we never run our cattle when moving fields or processing cattle.

Cattle are always available for purchase off the farm and range from feeder steers at certain times to quality replacement heifers and proven cows. Having bred our line of genetics since the late 1950's we stand by our cattle to be fence, bucket and water trough broke. We have a small selection of bulls ready for breeding. With our dual calving herds we have replacement stock ready for placement into spring and fall calving herds around Kentucky. If you are looking for great looking cattle that will put pounds on the ground, contact us at the farm to view cattle.



---
Quarles Sheep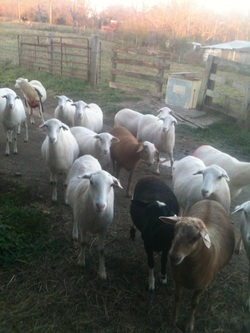 Quarles Farm took a leap of faith in Summer 2012 and stepped back into the sheep business. Until then, there had not been a sheep on the farm for a little more than forty years ago, when our Grandparents had a large flock of sheep. We are currently building a quality herd with the help of some great breeders here in Kentucky. While production will be slow, we are looking forward to supplying our customers with a local great tasting lamb. We are breeding Katahdin ewes to lamb in March and early Fall. We will be selling our ram lambs at all Farmer's Markets and by special order. Ewe lambs will be retained for our breeding programs with preference being given to the lambs that are twins. All our sheep are vaccinated for common sheep diseases, dewormed and have their feet trimmed twice a year or as needed. Ewes are fed little grain during the Summer and Fall with additional supplement given when nursing. They also have free choice mineral that is available at all times.


Quarles Farms has quality replacement ewes for sale at all times, a wide variety of stock to choose from we have ewes exposed for spring and fall lambs with animals ready for viewing on request. Feeder lambs are always for sale off the farm and ewe lambs are available; feel free to contact us for a chance to see your next herd addition.

Quarles Goats

Quarles Goat Meat is the smallest of the operation right now with only 20 nannies providing replacement stock and feeders for the freezer. We purchased our foundation and are using the best genetics possible and know it will prove it on your table. We can reserve a whole goat at your request while also having a great selection at each market. While we are limited in numbers look for the meat to go quick!
---
Our Feed and Mineral Program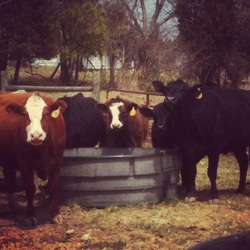 The supplemental grains that the cattle, sheep and goats are fed are not medicated in any fashion. The corn fed to Quarles Quality Beef cattle is a conventional product and has not been genetically modified. Mineral and other organic minerals that the animals need to have a healthy functional system are available at all times. By handing feeding our herds once a day we are able to observe the health of the animals daily. Quarles animals are not treated with antibiotic unless absolutely needed; we pride ourselves in keeping on top of herd health and catching illness before it gets started or spreads. If an animal is treated with any medication or given vaccines, we follow USDA withdrawal guidelines and precautions before moving any of the animals off the farm.

We like to see our herds grazing as much as possible, we supplement our cattle in the winter with our homegrown hay that we labor on many hours during the Spring, Summer and Fall months. We keep our animals in peak condition to ensure healthy calves, lambs, and kids.

Customers are always encouraged to give us feed back on our products

"We're Quarles Quality Beef fans! Thanks very much for supplying the beef for our girl's birthday party. It was exactly what I expected it to be - wonderful, well cut and very flavorful! I'm looking forward to future orders, when I finally get a chance to sit still and plan some regular meals.Thank you, thank you, thank you!!"

--- Laura Leigh Goins (Frankfort Farmers Market Customer)

---
Cuts of Beef, Lamb and Goat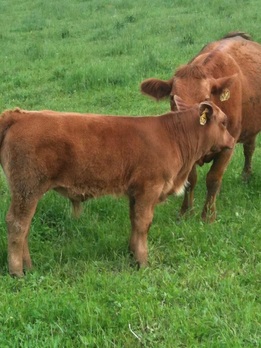 Hanging out in the pasture with mom
Our greatest joy is when customers ask us what cuts they should try; sure anyone can grill a burger but we love having our customers try different cuts of our beef. Often we rejoice when we come across a Skirt steak that has been overlook because we know that we will eat like kings. We have a kick butt Beef Brisket recipe that we have shared with people and think that everyone should try once. We also understand that choosing beef cuts is sometimes confusing, we have taken the liberty to compile several different sights that allow consumers identify the type of cut and the best way to prepare these cuts. We have also provided other websites that give nutritional facts of beef and other interesting articles surrounding the beef industry.

The chart below gives our customer an idea about where each cut comes from when we start talking about which cut you should try. We work to put the best possible product on your table and hope you enjoy supper time with your friends and family.





---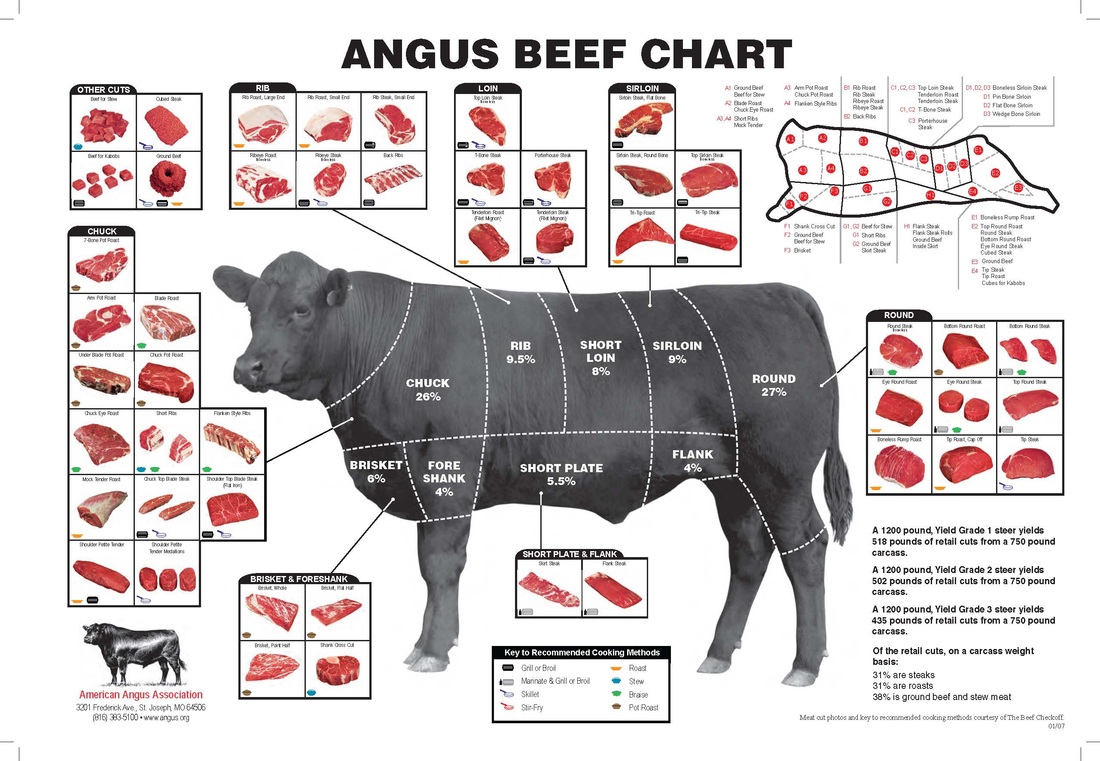 Quarles Beef Price List
all prices subject to change without notice
Steaks & Burgers

Filet Mignon.....$27.00/lb
Ribeyes........... $17.50/lb
T-Bones...........$18.00/lb
NY Strip...........$15.25/lb
Flank................$16.50/lb
Skirt..................$15.75/lb
Flat Iron............$15.75/lb

Sirloin Steak.....$13.00/lb

Ground Beef.........$5.50/lb
Ground Chuck......$6.00/lb
Ground Round......$6.00/lb

1/4 Pound Patties.......$6.00/lb
All Beef Brats..............$8.50/lbs
All Beef Hot Dogs........$8.25/lbs



Roasts, Ribs and Really good Selections

Rump Roast............$9.00/lb
Chuck Roast............$7.75/lb
Tri-Tip Roast............$11.00/lb
Sirloin Tip.................$13.00/lb
Stew Meat................$6.25/lb
Ribs..........................$9.75/lb
Soup Bones..............$5.50/lb
Liver..........................$4.75/lb
Ox Tail.......................$5.00/lb
Heart..........................$4.75/lb

Did you know?

We also have whole lamb rams for sale. If you would like to place a hold on a ram lamb for your family, please let us know. We will feed the lamb to final weight and let you pick the lamb up here at the farm. We can also deliver the lamb to the USDA processing facility for processing and the lamb will be processed to your specifications.

Our sheep are grass fed and supplemented with grain and grass hay during the winter months. Our flock is put in the barn every night to protect against predators and neighborhood dogs. Often we allow our ewes to free graze around the farm while in sight of the house. We also use Sheep Netting to control graze our flock in areas are not accessible to our cattle or mowers.

Sheep/Lamb Price list
Not all cuts available depends on Demand
Prices subject to change without notice

Ground Lamb $12.00/pound
Lamb Shanks $11.75/pound
Leg of Lamb Bone In $11.75/Pound
Leg of Lamb Bone out and Tied $12.75/pound

Lamb Leg Steaks $13.75/pound
Lamb Shoulder $12.75pound
Lamb Shoulder bone out and Tied $13.75/pound
Lamb Shoulder steaks $15.00/pound
Rack of Lamb $18.00/pound
Stew meat $12.00/pound
Lamb Liver $7.00/pound
Lamb Loin Chops $18.75pound
Lamb Heart $8.00/pound

Lamb Brats $10.50/pound






Lamb Cuts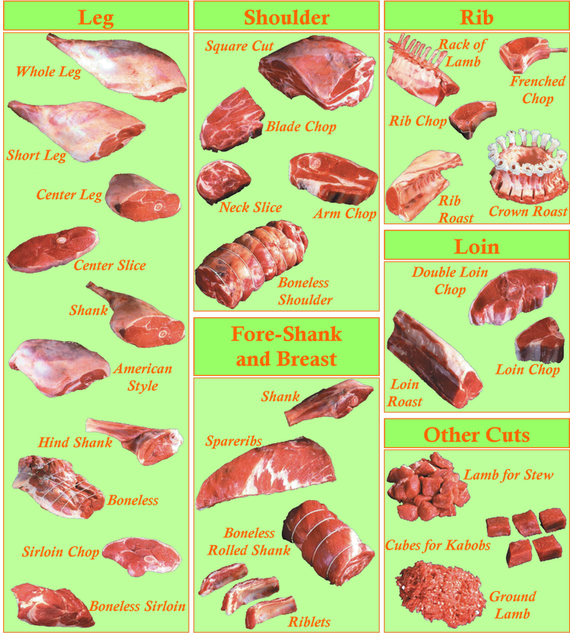 We are offering several different lamb cuts. Currently we only offer what is listed above on our price list, but if you are looking to order a whole lamb from us in the future, these might be some of the cuts that you would like to have.

---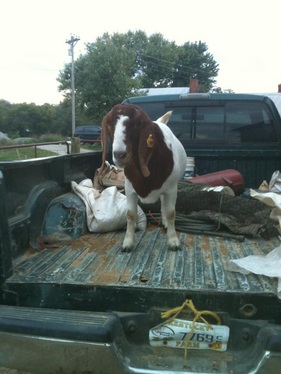 Our Price list
Ground Goat $11.50/pound
Goat Shanks $11.75/pound
Leg of Goat Bone In $11.70/Pound
Leg of Goat Bone out and Tied $12.70/pound
Goat Shoulder $14.00/pound
Goat Shoulder bone out and Tied $12.70/pound
Rack of Goat $17.00/pound (split into thirds)
Stew meat $12.25/pound
Goat Liver $7.00/pound
Goat Loin Chops $18.50/pound
Goat Heart $7.00/pound

Goat Brats $11.00/pound New product!


---